Sports and Fitness
Kitesurfing, horse riding and boot camp
Kitesurfing on Isla Holbox
This article contains affiliate links. What does that mean?
If you make a purchase via such a link on the site of the provider, we may earn a small commission, which supports us in this project. Of course, this doesn't cost you anything! Thank you very much!
You always wanted to learn kitesurfing, improve your skills or just have fun with like-minded people? Then Holbox is the right place for you! The shallow waters at the 16 mi long sandy beach and the mostly onshore or sideways wind make the island the ideal place for beginners and advanced surfers. Depending on the wind direction, there are two hotspots here that are mainly used for kiting. One is in the west at Punta Cocos, the other in the east at Hotel Las Nubes. The best weather conditions for kitesurfing on Holbox are from November to the end of May with winds from 12-25 kn.
Learning to kitesurf is not difficult and requires less effort than it looks at first glance. For newcomers there are taster courses for 2 to 3 hours in which you learn all the basics from the correct handling of the kite in dry training to getting on the board and first maneuvering in the water. For a safe and independent handling of the kiteboard a 3-day course is recommended. After that you should be able to kite sufficiently to have fun.
For experienced kiteboarders there is the possibility to book individual lessons or to rent the appropriate equipment. On Holbox there are three kitesurf schools where you can book courses or rent equipment. All three have similar offers and are equally recommendable.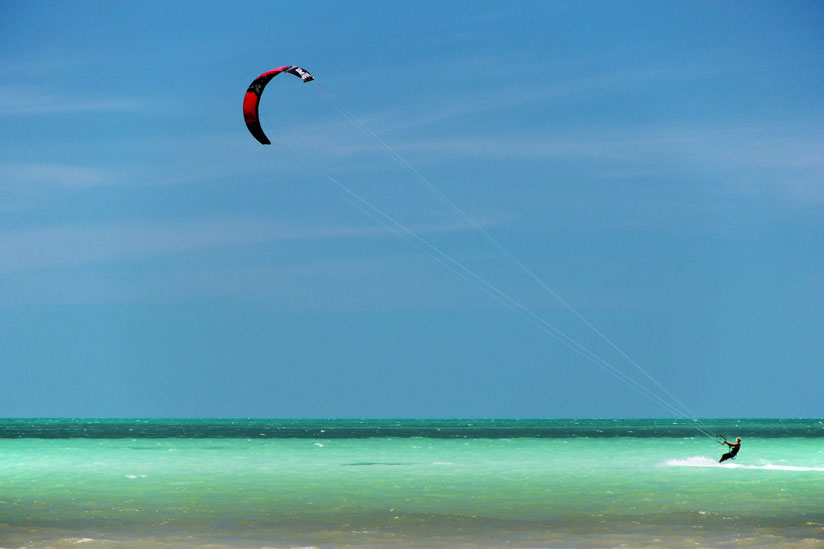 Kitesurfing Schools on Holbox Island
Holbox Kiteboarding School
Av Damero, Centro, 77310 Isla Holbox, +52 984 1795021, www.holboxkiteboarding.com
Holbox Kiteboarding School was established back in 2009. The multinational, IKO-certified instructors teach in almost all languages, including German. To each of the best hotspots, the school uses its own rescue boat, trailer or electric vehicle. Taster courses for 2 hours are available from 135 USD. A 3-day basic course with a total of 9 hours costs from 480 USD. A good kite equipment rental for a 3 hour session is available from 75 USD.
KUKULKITE Holbox KiteSurf School
Av Pedro Joaquín Coldwell, 77310 Holbox, +52 442 2835636, www.kukulkite.com
Kukulkite has only been on Holbox for a few years. The school also has well-trained, IKO-certified instructors. The prices are a bit lower here: taster courses with 3 hours start at 130 USD, a 9-hour basic course costs from 360 USD, depending on the number of participants. Modern equipment can also be rented here. The price for a complete kite equipment for a whole day is 95 USD.
Lifestyle Kiteboarding KiteSurf School/Center
Isla Holbox, Av Damero con Calle Robalo, 77310 Holbox, +52 987 1119403, www.lifestylekiteboarding.com.mx
Lifestyle Kiteboarding KiteSurf School is the youngest of the kitesurfing schools and only recently established on Holbox Island. The instructors are IKO certified and the most modern equipment is used for the lessons. The 3-hour taster course costs from 140 USD, a 3-day starter course costs from 420 USD, complete equipment for 3 hours is available from 75 USD.
Horseback Riding on Holbox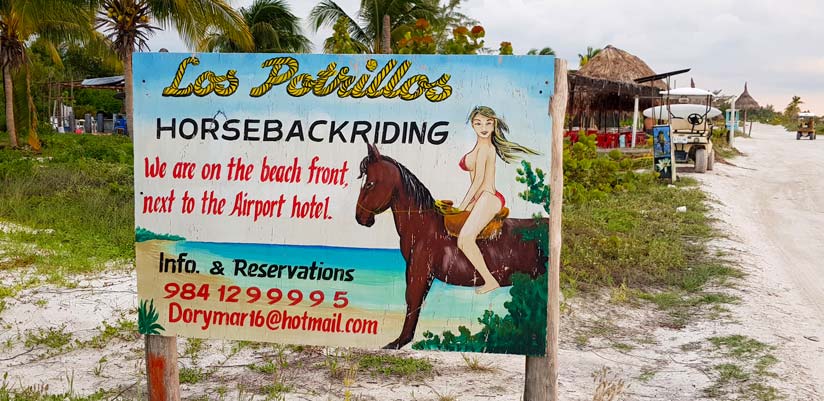 On the island of Holbox there is a small horseback riding station called Los Potrillos, where you can book a ride along the coast, past the mangroves and through the jungle. The horse rental is located between the airport and the Hotel Puerto Holbox. It is best to go there directly and inquire personally about the possibilities. Prices start at 48 USD for 1.5 hours. Inquiries under email: Dorimar16@hotmail.com or phone: +52 984 1299995. Alternatively, you can book a horseback riding tour with one of the many local tour providers on Holbox, such as My Holbox Tours, or online at GetYourGuide.
Running and Boot Camp
If you like to do some sports during your vacation, you don't have too much choice on Holbox. A very nice option is jogging or running on the long beach. Due to the somewhat higher, Caribbean temperatures, it is recommended to start early in the morning around 7 o'clock, as long as the sun is low and the beach is still almost empty. Once the sun's rays reach the coastal area, it quickly becomes very hot. In the evening it is also possible from the temperatures, but at this time many island visitors are driven to the beach to admire the mostly fantastically beautiful sunsets.
However, there is still a sporting event that can be used on weekdays if you are interested. At the quite centrally located Hotel Zomay, there is a boot camp on Holbox from Monday to Friday in each case in the morning from 7:00 am to 7:45 am and in the evening from 6:00 pm to 6:45 pm, which is also gladly used by locals or people living here. Participation costs 200 MXN (about 10 USD) for one workout, but there are also cheaper subscriptions for longer periods.