The Location of Holbox
In the north of Yucatán on the coast of Mexico
Image: dronepicr – Holbox Mexico arerial – aerial photo
Where is Holbox Island Located?
This article contains affiliate links. What does that mean?
If you make a purchase via such a link on the site of the provider, we may earn a small commission, which supports us in this project. Of course, this doesn't cost you anything! Thank you very much!
Holbox is located in the north of the Mexican peninsula of Yucatán, between the Gulf of Mexico and the Caribbean Sea. It is part of the state of Quintana Roo and belongs to the administrative district of Municipio Lázaro Cárdenas.
From Cancún, the way to the island leads first to the port of Chiquilá, from where you can reach Holbox Island in 30 minutes by ferry. Chiquilá is easily accessible by car or bus in about 2-3 hours. If you like it adventurous and exquisite, you can also fly there directly with a small plane in 35 minutes.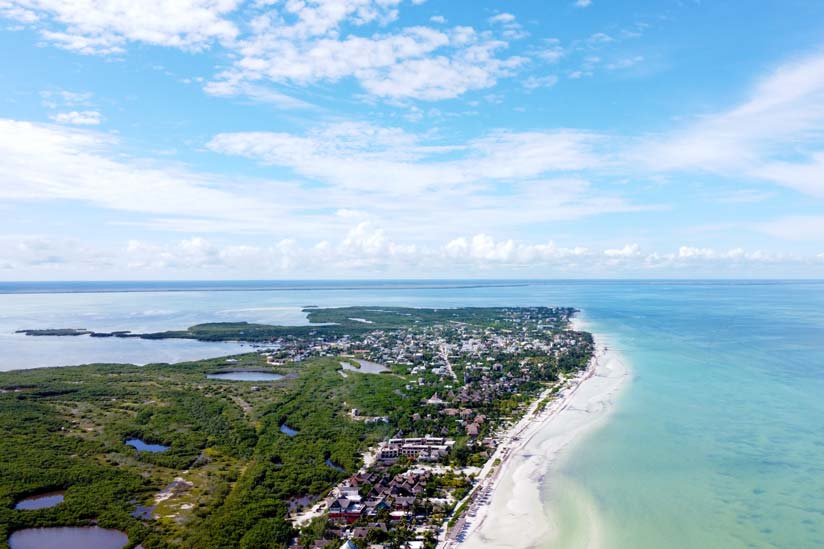 The famous resort of Playa del Carmen is about an hour's drive south of Cancún and is also only 2 hours from Chiquilá because of better road connections. The same is true for Tulum, famous for its Mayan temple complex by the sea, which requires another 30 minutes of driving south. Mérida is the capital of Yucatán and is located in the west of the peninsula. By car, Mérida is about 3.5 hours from Chiquilá or from Cancún.
Distances and Travel Times to and from Holbox Island
Tips on How to Get to Holbox
The best way to get to Isla Holbox
The Yucatán Peninsula
Yucatán is the name of the peninsula on the Caribbean coast and it stretches from Mexico through Belize to Guatemala. The entire area is rather flat and mostly covered with forest. The ground consists of limestone, in which in the course of the centuries in certain places hollows have filled up with water. These so-called cenotes were already used by the ancient Mayan peoples for religious purposes. Today they are popular tourist attractions and are also used by locals for a refreshing cool down.
There is also a cenote near Holbox in Yalahau that is worth visiting. Holbox belongs to the protected natural area of Yum Balam. This northern part of the state of Quintana Roo was placed under protection in 1994 to preserve the original tropical vegetation and wildlife. In 2004, protection for bird life was even extended to include the Ramsar Convention.