Support the Animal Shelter
Help the Refugio Animal Holbox
The Animal Shelter on Holbox Island
This article contains affiliate links. What does that mean?
If you make a purchase via such a link on the site of the provider, we may earn a small commission, which supports us in this project. Of course, this doesn't cost you anything! Thank you very much!
For animal lovers and people who want to do something good for animals in need even on vacation, there is a very special opportunity on the island. The local animal shelter, Refugio Animal Holbox, is grateful for any help. Numerous dogs, cats and birds live here and are cared for with modest means and a lot of love.
After heavy rains, the shelter staff may even go out to return stray turtles, snakes or crocodiles to their natural habitat. Raccoons, by the way, are not kept here, but can be observed in small packs, especially in the evenings or mornings, in different places on the island.
The Refugio Animal Holbox was founded more than 10 years ago by Morelia Montes with her own savings. In addition to the numerous, partly voluntary helpers, there is even a small veterinary clinic for medical treatments and sterilizations, which is directly connected to the shelter.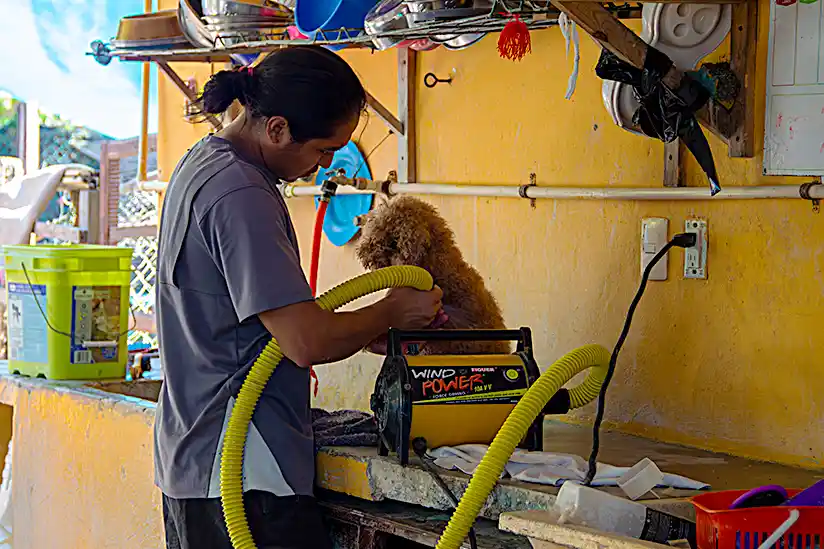 The Refugio is entirely financed by donations and has not received any government support to date. Donations of any amount are therefore very welcome.
Many tourists support the Refugio Animal Holbox
On our last visit to the shelter there were about 50 to 60 dogs and about 20 cats as well as some birds. As we have done it ourselves many times before, tourists come by during the day, bring small or large donations and spend some time with the animals.
The latter is absolutely necessary so that they can live out their urge to move and experience a little affection. Despite all the efforts of the founder and her helpers, their own time is not enough and the space for the many four-legged friends is almost too small.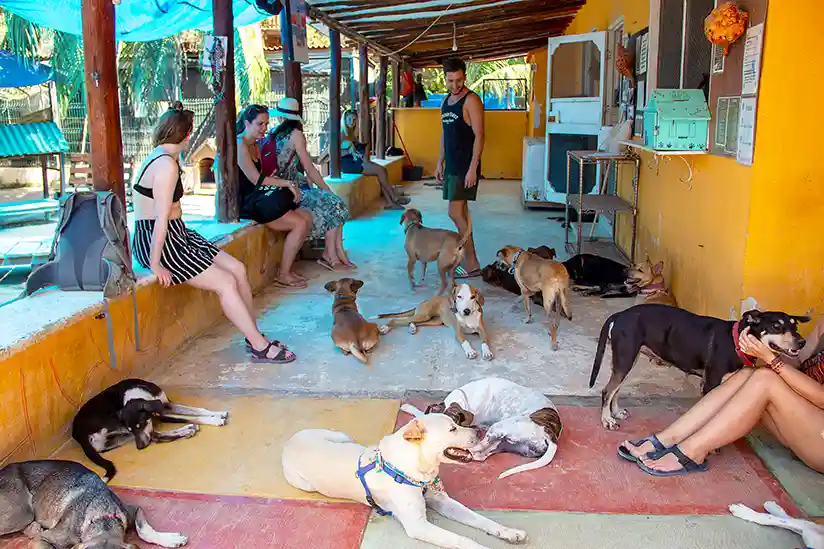 If you would also like to support the shelter, then just drop by. The Refugio is easy to find, it is located near the small airport of Holbox Island on Calle Tintorera and is open daily from 10am to 6pm.
Help for dogs
Most tourists bring donations of food for the dogs, which is very helpful for the ongoing operation. However, they are also happy to receive dog toys to add some variety to their daily lives. You can also support by taking one or more of the dogs for a walk or by helping to clean the cages, food bowls and other activities for the animals' well-being.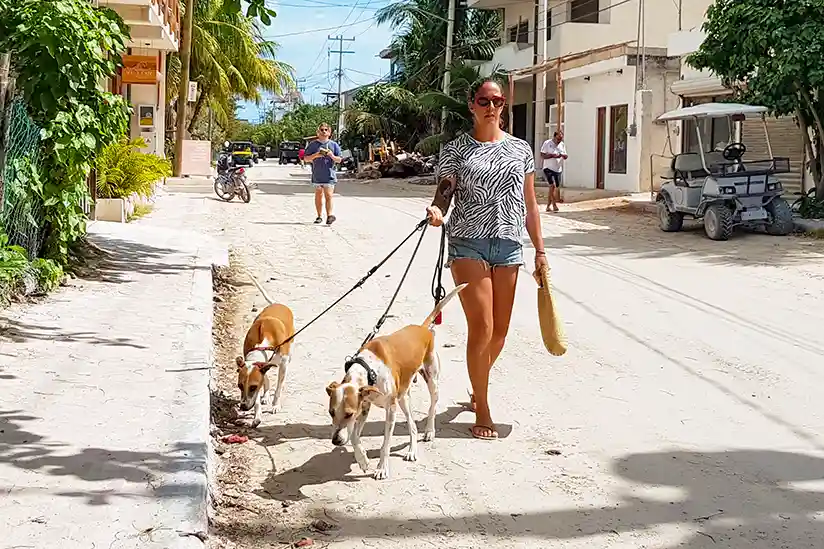 Of course, the best way to support the Refugio is to adopt an animal, and this actually happens quite often. In the hallway of the main building there is a clearly visible board with all the dogs available for adoption. You can also help to transport an animal that has already been adopted. There is a constant search for so-called "flight angels" who can bring animals to their home countries.
Do not forget the cats
Unfortunately, the cats kept here often get the short end of the stick. Please think about them too! Currently, the animals are kept in two cages, one of which is reserved for cats infected with FeLV (Feline leukemia virus). The rest of the cats are in another enclosure so they can't get infected. By the way, this disease is purely cat-specific and cannot be transmitted to humans or other animals.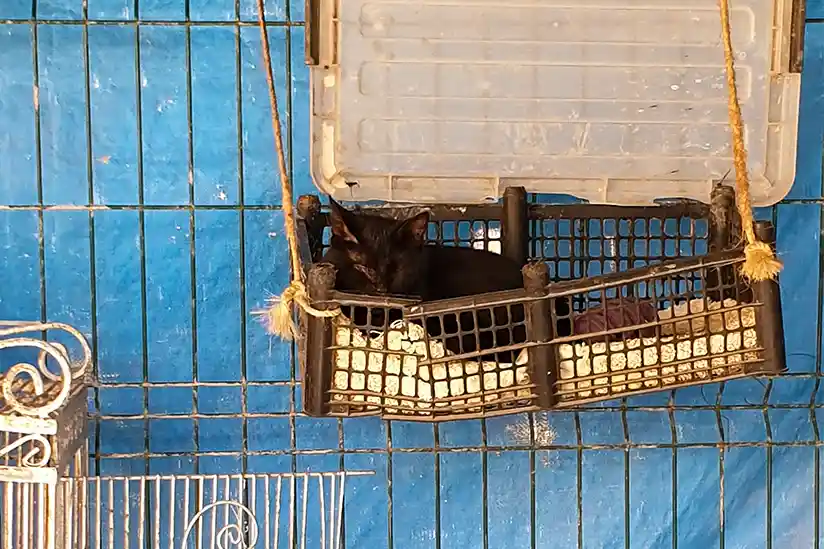 Donations of food, treats and toys for the cats are also very welcome. Even more urgently needed are treatments for fleas, ticks and other parasites. While pet food is available in almost every supermarket, tick collars, flea drops or lice sprays are not.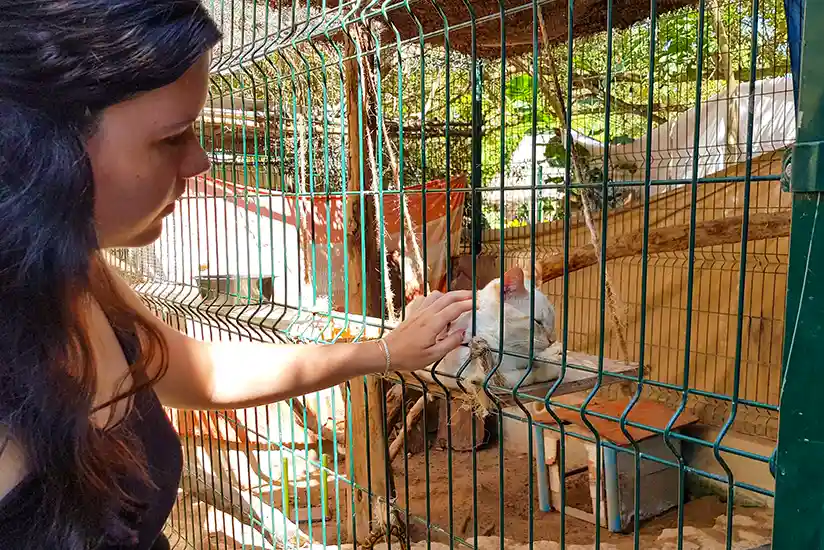 Medicines for dogs and cats
Pharmaceuticals are scarce on Holbox Island. If you have medicine for your pets at home that you no longer need, you will be doing the animal shelter a great favor. Your help will be most effective if you contact the Refugio before your arrival and find out what is needed most urgently. The best way to do this is through the shelter's Facebook page.