Tips
Important information about money, internet, doctor and more
Travel Tips for Your Stay on Holbox
This article contains affiliate links. What does that mean?
If you make a purchase via such a link on the site of the provider, we may earn a small commission, which supports us in this project. Of course, this doesn't cost you anything! Thank you very much!
With these insider tips your vacation on Isla Holbox will be easier and more carefree. If you have had a useful experience yourself, write us your personal tip and we will be happy to add it to the list.
1. Money and Currency
The currency in Mexico is the Mexican Peso, abbreviated MXN. As a rule of thumb with status March 2023, 1 USD = approx. 18.40 MXN, or 100 MXN = approx. 5.40 USD or 1 GBP = approx. 23 MXN, and 100 MXN = approx. 4.50 GBP. In daily use, banknotes are mainly used. In terms of banknotes, 20, 50, 100, 200 and 500 bills are common, which are relatively small amounts when converted into dollars, giving you quite a lot of bills when you change.
There is a 1,000 pesos bill, but it is hardly used in everyday life and even with a 500 pesos bill you often have difficulties paying because of the lack of change, so it is always good to have a few smaller bills with you. Coins are available as 1, 2, 5 and 10 pesos, the even smaller centavos are hardly found in everyday life.
There are currently two variants of almost every peso banknote in circulation. The older banknotes are clearly worn and rather paper-like, the newer ones are a bit smaller and feel slightly like plastic. You don't have to worry about it though, both types of banknotes are accepted everywhere.
In tourist areas, US dollars are often taken. However, these are not recommended, as they are much more expensive. If you have a few USD with you, there is no harm in taking them with you to Mexico as a reserve. Where available, the use of credit cards as a means of payment is a very good choice. They are accepted in many stores and restaurants, but they are not widely available on Holbox Island, so cash is a must.
You can change money from dollars or pounds into pesos in Mexico without any problems at any exchange office, bank or ATM. The withdrawal of Mexican pesos is cheapest at the ATM, which usually works well with a common credit card from e.g. VISA, Mastercard or debit cards like Maestro. In exchange offices and banks you pay a bit more, because besides worse exchange rates there are also higher fees.
At present, Maestro debit cards are the cheapest way to make withdrawals, as many credit cards also charge high processing and cash withdrawal fees.
There are currently two ATMs on Holbox. One ATM is in the police station (Alcaldia) on the first floor at the main square, where you could withdraw Mexican pesos with a credit card.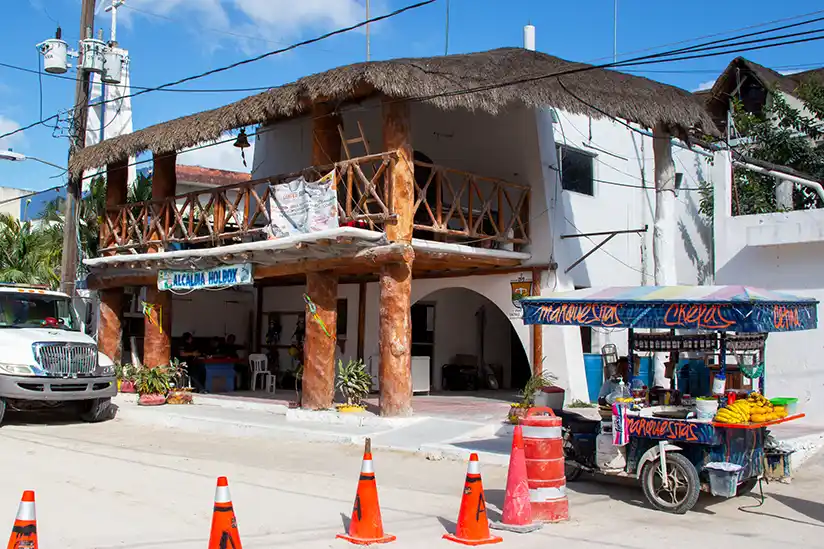 The second ATM for Mexican pesos is located at the bank CI Banco, which is on the main street Calle Tiburón Ballena about halfway between the port and the main square. This ATM is located in the back of the building and also accepts debit cards.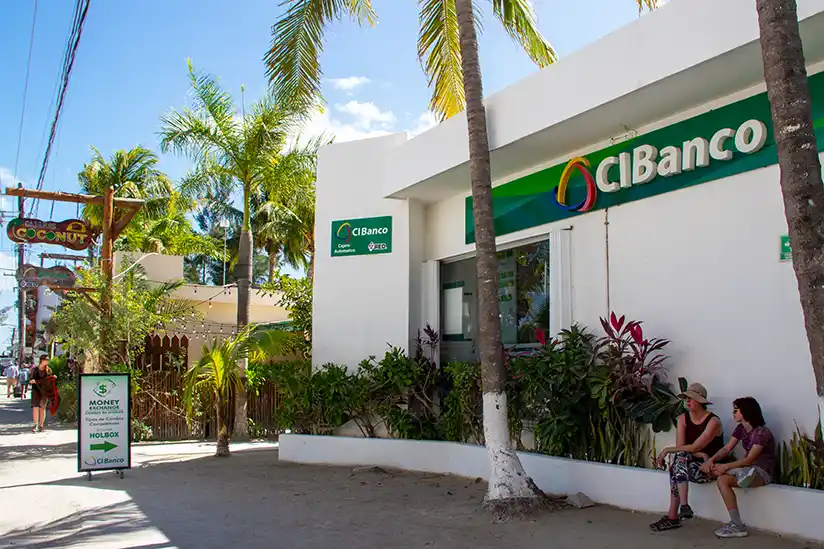 Both ATMs are filled only irregularly, which is why they are sometimes empty for a few hours and there are often long queues afterwards.
Beware of the markup trap: When withdrawing Mexican pesos at an ATM with a debit or credit card, numerous questions are asked, e.g. whether you want a bill or agree to the commission. The most important question, however, comes at the end, which is whether you agree to the conversion to dollars or pounds. You should absolutely decline this ("Declinar"). Otherwise the ATM will convert the Pesos amount into dollars or pounds for you, with high extra charges of 5-6.5%. You are always much better if you refuse the conversion, as your bank will charge much lower exchange fees. Don't worry, the money will still come out of the ATM.
All other marked ATMs on Holbox are either permanently out of service or only dispense US dollars with extremely high fees. Alternatively, there is an exchange office near the main square, where fees and exchange rates are less favorable.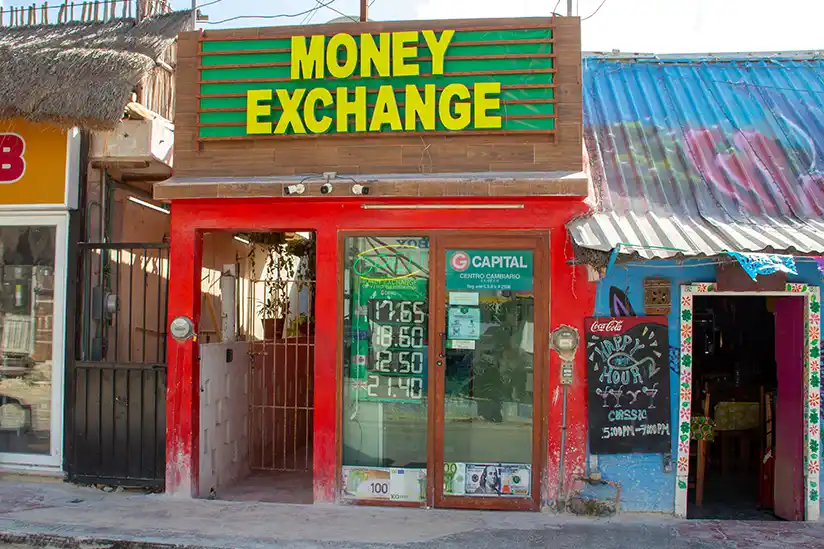 Tip: If you come to Holbox without any Mexican pesos at all, we recommend you to withdraw a few Mexican pesos at an ATM at the airport in Cancún.
2. Tip
In Mexico, it is common to tip about 10-15% in restaurants or bars. Tipping is an important part of the Mexican waiters' income, as the base salary is very low.
Tip: Sometimes the tip is added to the bill, so you should always check the bill first (at "Propina sugerida") to avoid tipping twice. It is best to give a small tip of 10-20 MXN to porters or service staff. It is not usual to tip cab drivers.
3. Pharmacy, Dentist, Doctor and Hospital
In the unpleasant event that you need medical care during your vacation on Holbox, there are limited options on the island. If it is a small matter, such as an upset stomach or sunburn, you are usually well advised to try one of the pharmacies first.
The largest pharmacy is Farmacia De Similares on Calle Porfirio Díaz, about one block from the main square. Not far away, on Av. Damero, is the Farmacia Novedades Jessy, which is also recommended. Somewhat better advice is available at Pepe's Farmacia, across the street from the shopping center. As is common in many places in Mexico, there are other pharmacies, but they are mainly interested in selling tourists expensive medicines that require a prescription in their own country, but are available here without a prescription.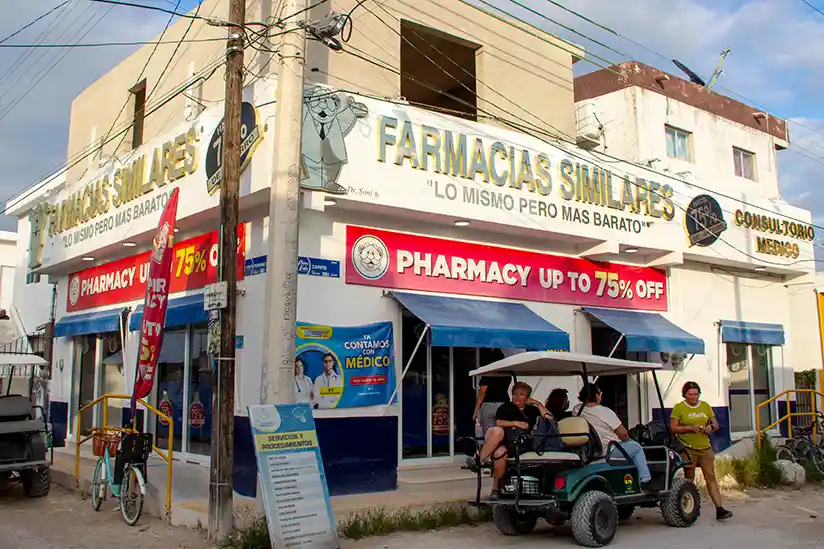 For dental help, there is a dentist on Holbox, SAK CHE'EJ CLÍNICA on Calle Esmedregal near the main square, Tel: +52 984 8067791.
Should you need a doctor, there are three options on Holbox: The first is to go to the public hospital, Centro de Salud Holbox. This is a small and really very simple hospital. For smaller injuries like cuts or similar, the care there is always sufficient. Depending on the rush, one has to expect a waiting time and the treatment has to be paid in cash. However, the amounts are very small and if you get a bill, you can submit it to your health insurance at home for reimbursement.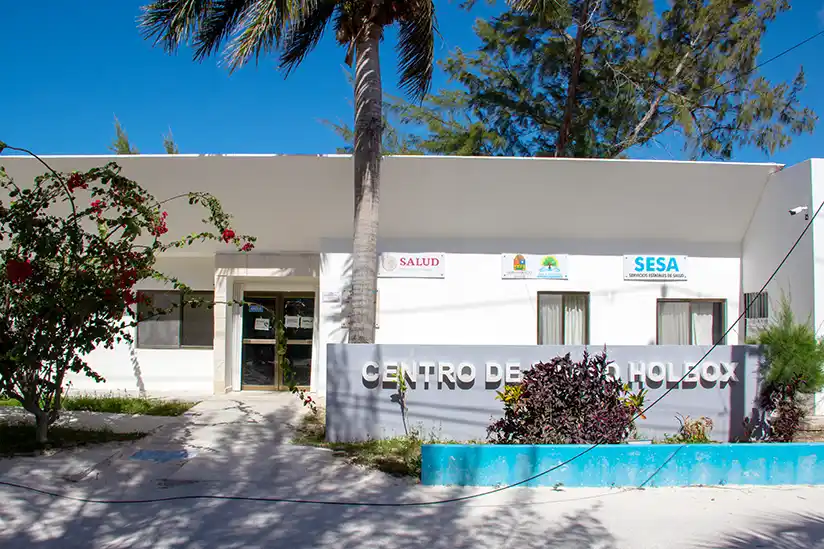 The second option is to go directly to the doctor Dr. Marco, or Dr. Rivera, who are located at ASMET Holbox, Tel: +52 998 2461003. Here they also do Covid-19 PCR tests for 3,500 MXN (about 182 USD / 156 GBP) and even make house calls in the hotel room if needed. Finally, there is a private doctor in the Utstal Centro Médico on Calle Tiburon Ballena, midway between the port and the main square, but it is said to be very expensive and we have no experience with it.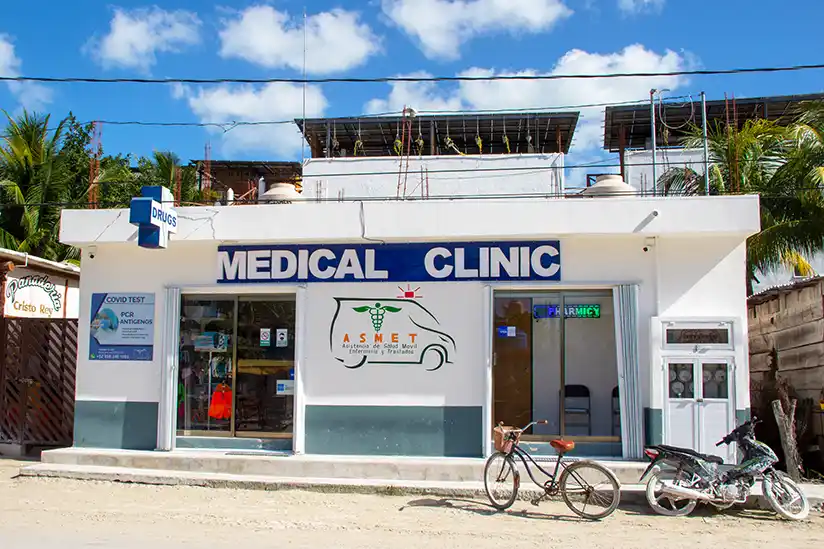 Serious illnesses or injuries cannot be treated on the island of Holbox. In this case you have to go to one of the big tourist areas in Cancún or Playa del Carmen, where there is a very high density of doctors and hospitals. An international health insurance can pay off, because the prices there are much higher and the treatment or a necessary stay in the hospital must be paid immediately.
Holbox also offers medical care for animals. If you have come to the island with a pet and your darling needs medical care, you can contact the veterinarian at the veterinary clinic CariVets Holbox Clinica Veterinaria in Calle Sierra, corner C.P. Kuka.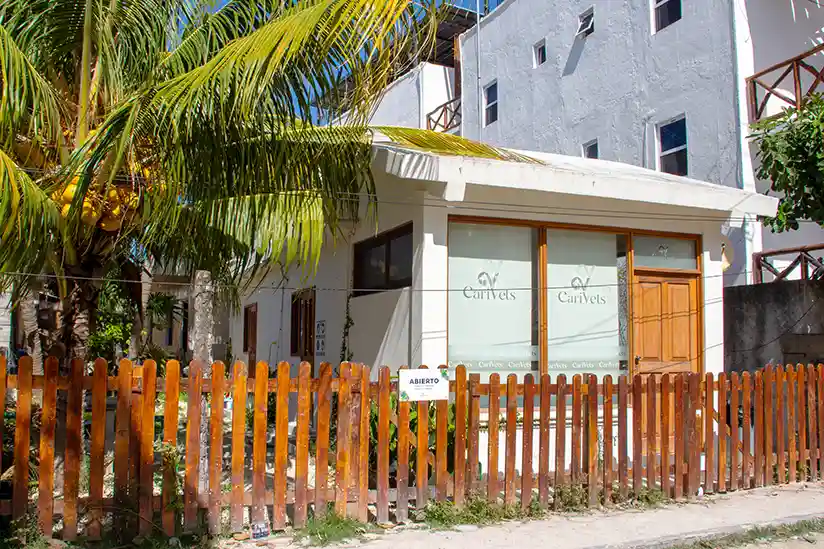 4. Internet and Wi-Fi
In Mexico, Internet is widespread and well used, which is why there is free Wi-Fi, in almost all accommodations and also in many restaurants. However, the internet availability and connection quality on Holbox Island is extremely poor. It is often just enough to send a few messages or for social media. Normal surfing sometimes requires a lot of patience and if you want to make a simple voice call via WhatsApp or Skype, for example, you quickly reach the limits.
With a local prepaid SIM card, things are a bit better, but not really fast. You can find more information about this in the next tip about the telephone. In some accommodations and restaurants there is now internet access via Starlink, which works much better.
Tip: If you ever need a little faster internet, try the Café Another Clandestino near the beach or the breakfast restaurant Wayak Dreamy Food Holbox, where the internet is much faster.
Extra tip: Before you leave, download offline maps for Google Maps or another mapping service in your home country to help you find your way around even with no or poor internet.
5. Phone
Most of the main carriers offer affordable and even free roaming in Mexico. But they also have older plans with very expensive roaming rates. In this case you should ask for a cheaper plan.
In Mexico, WhatsApp is generally used much more frequently instead of the normal telephone, and Facebook and the associated Messenger are also very widespread. Almost every hotel, store or service in Mexico can be reached via WhatsApp, which is very convenient.
Tip: If you want to use phone and internet intensively in Mexico, it is recommended to buy a local prepaid SIM card. These are very cheap and easy to set up. At the Móvil Shop in Calle Tiburón Ballena near the main square, you can buy a SIM card for 100 MXN (6 USD / 4.50 GBP). Voice minutes (for phone calls in Mexico) and data packages for mobile Internet access are available for 50 MXN (3 USD / 2.3 GBP) for 500 MB and 7 days, or 100 MXN (6 USD / 4.50 GBP) for 1.6 GB and 15 days. The person in the store will be happy to help with the setup of the phone. SIM cards are also available at the store Innovateh Celulares y Accesorios in Calle Esmedregal.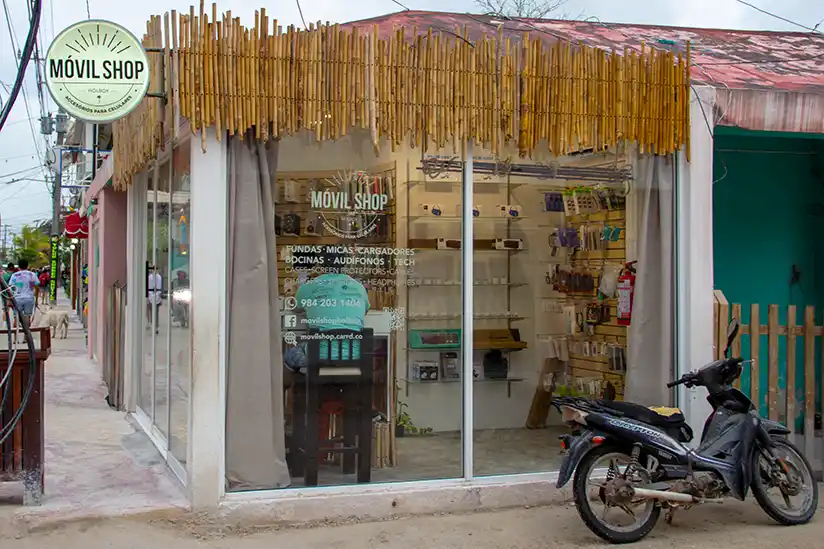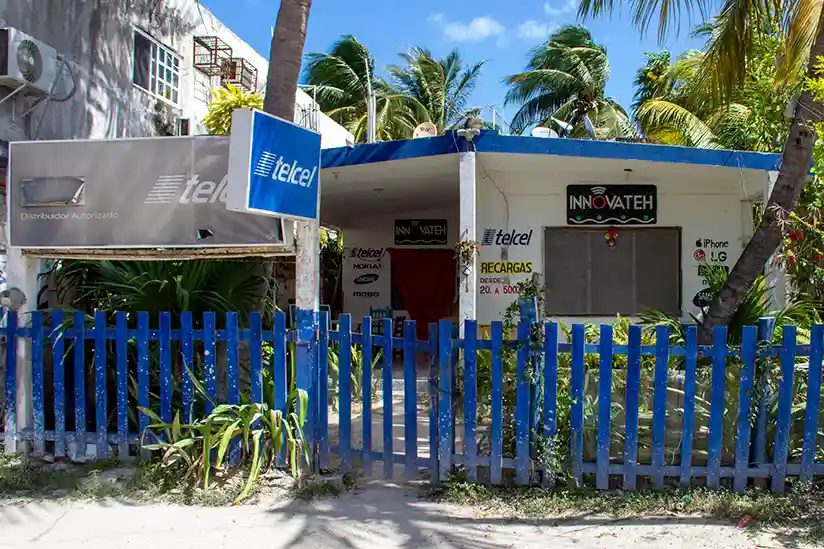 6. Electricity
In Mexico there is alternating current with 120 Volts and 60 Hertz. Power plugs and sockets are type A and type B, same as used in the United States. If you are coming from the US there is no need of an adapter, but it does not hurt to take a 3 to 2 prong adapter in case type B sockets are not available.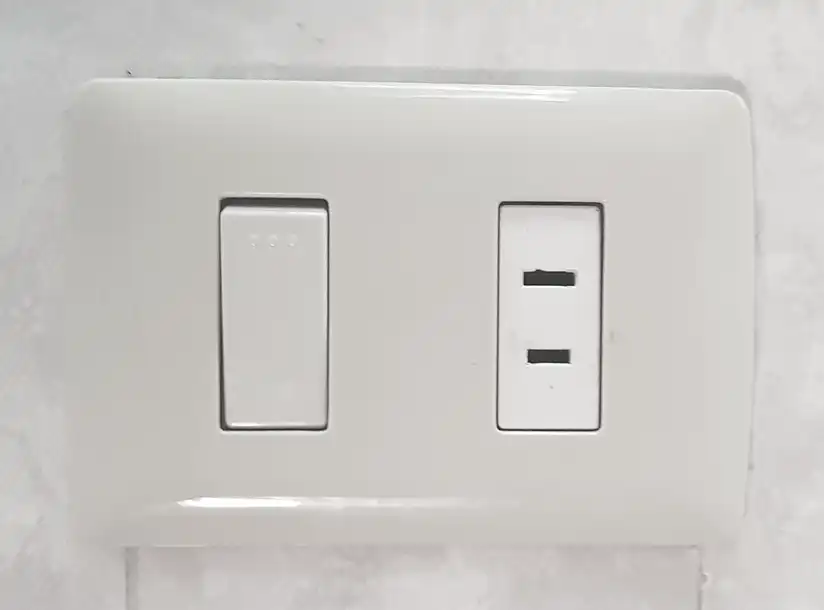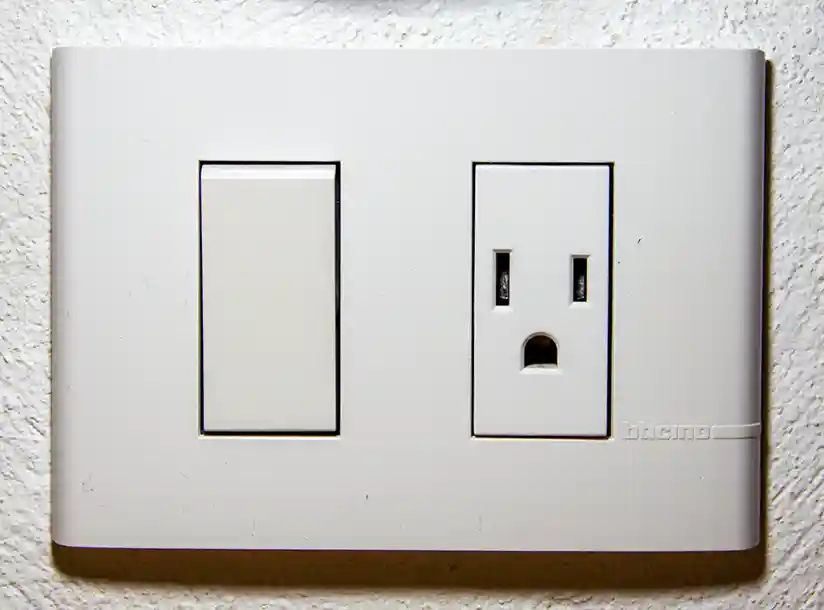 The power supply on Isla Holbox is more or less stable. Especially in the evening and at night, there is on average about 1-2 times per week a power outage, which can often last only a few minutes, but sometimes several hours. This can affect the whole island or only a part of the power grid. If you are sitting in a restaurant during such a blackout, the tables are decorated with candles or table lamps, which can be quite romantic. But you are less pleased when the WLAN router fails in the room or even the refrigerator defrosts.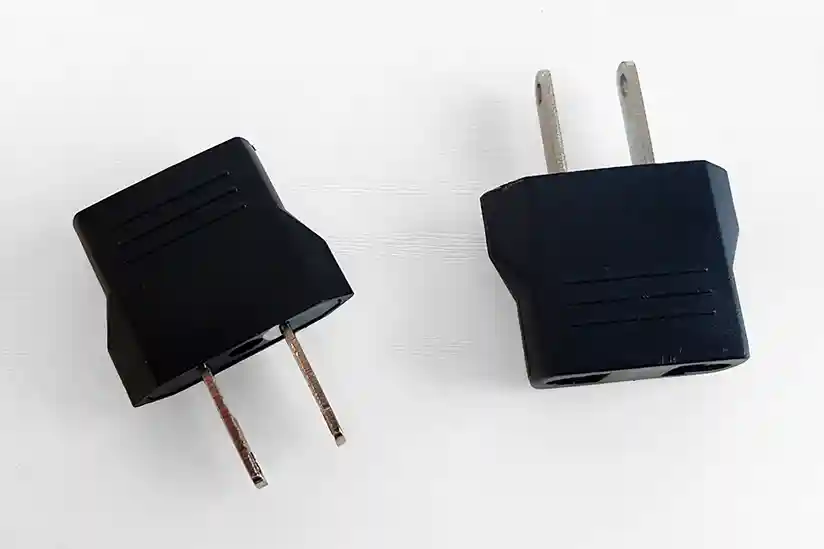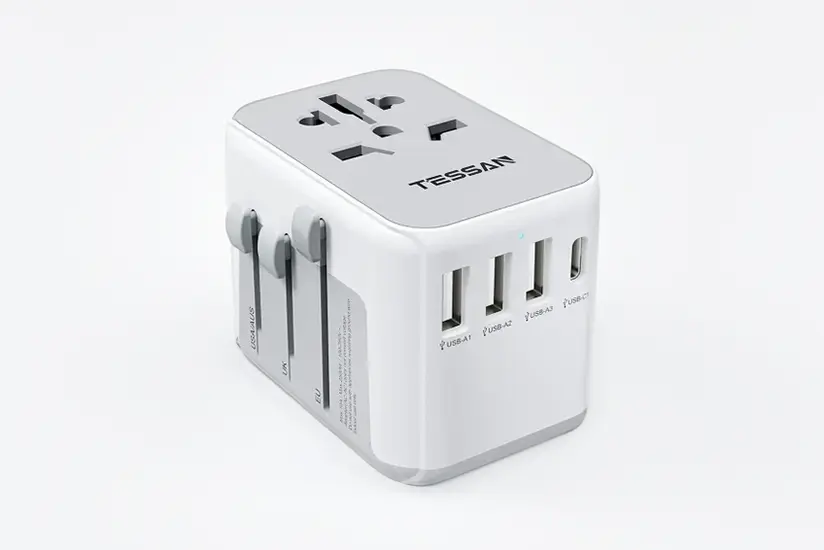 7. Water Supply and Drinking Water
The tap water on Holbox Island is not drinking water and it is strongly discouraged to drink it. However, it is safe to use for personal hygiene or brushing teeth. Sometimes it happens that the water supply on Holbox fails completely for a few hours. This is due to the fact that the island is supplied by a water pipe from the mainland and this causes problems again and again, especially after heavy storms.
Tip: Most hotels and accommodations have refrigerated water dispensers set up in the easily accessible areas, which are refilled more or less regularly. It is best to buy a few smaller bottles of water at the supermarket and refill them with the water dispenser more often.
8. Mosquitoes and Sand Flies
While there are relatively few mosquitoes in the town of Holbox and the surrounding area in the dry season, a little further out from the center and especially in the rainy season these little beasts can be a real pain. In the early morning hours and shortly after sunset they are especially active and annoying. But even during the day, the small, barely visible sand flies on the beach can be quite a nuisance.
Tip: Take a good insect repellent or a tropical repellent such as Sawyer for skin and clothing with you on your trip to Holbox. You can buy repellents in local supermarkets, but it is more difficult to choose due to lack of knowledge about the different brands.
9. Seaweed and Algae
In many places in Yucatán, especially on the Riviera Maya, which stretches south from Cancún, the so-called Sargazo (Sargassum brown seaweed) has become an increasing problem in recent years. However, the island of Holbox is largely protected from significant amounts of sargazo washing up due to its special location. However, after heavy storms it can happen that a larger amount of seaweed is washed up on the beach. Most hotels near the beach remove the seaweed quite quickly, so it is not a nuisance for long.
Tip: For the latest status on algae pollution on the beaches of the Riviera Maya, visit the Facebook page RedSargazo.
10. Language
In Mexico Spanish is spoken. On Isla Holbox, English is also widely spoken and you can get by quite well without Spanish. German or French are hardly spoken here, at most Italian because of the similarity to Spanish and the numerous emigrants from Italy who settled here.
Tip: Knowing a few Spanish words is always an advantage and if you like, you can attend a language course at the Holbox School of Spanish with the teacher Juliana who lives here. She offers personalized courses for individuals or small groups up to a maximum of 4 people at very fair prices, for which a place is available in the restaurant El Hornito Argento. Recently, she also offers online courses, if you want to improve your Spanish skills at home.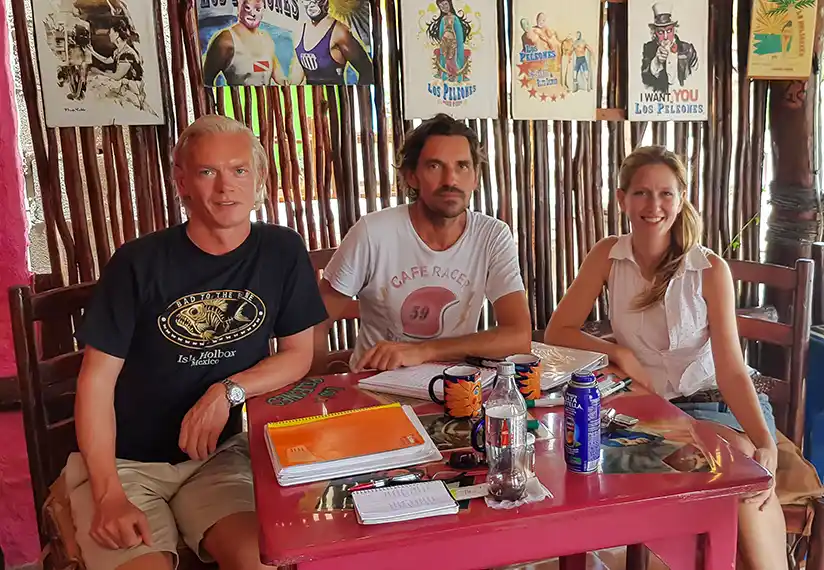 11. Laundries
During a longer stay on Holbox or an extensive round trip it will be necessary to do your laundry. Some hotels on Holbox offer a laundry service, but you can also go to a laundry yourself. In both cases you should not wash your favorite or expensive clothes here, because the cleaning is not up to the standard in the United States or the United Kingdom and something can go wrong.
Tip: A recommendable laundry is the Laundry Wash App in the Calle Gerónimo de Aguilar, near the corner of Calle Palomino. The ladies there are very helpful and you usually get your clothes back washed the next day, but not ironed. The cost depends on the weight and is about from 100 MXN (about 5 USD). Just a block away is a second laundry called La Roperia, where service and prices are similar.
12. Safety
The country of Mexico does not necessarily have the best reputation in terms of security and this is quite justified in some places. On Holbox you don't have to worry about that, the island is considered very safe. You can move freely and safely at any time of the day or night. Of course, it does not hurt to keep an eye on your belongings, since increasing tourism is always accompanied by an increase in petty crime.
13. Drugs
Possession and use of any type of drug is illegal in Mexico and can result in heavy fines and jail time, even for the smallest amounts. While the Mexican drug mafia is active in the big tourist centers and the police tries to counteract with a high presence, the island of Holbox has fortunately been spared so far.
In recent years, the government has repeatedly tried to legalize marijuana, which has so far failed due to the different interests of the public, business and politics. At the end of June 2021, the Supreme Court declared a legal ban on the consumption of cannabis unconstitutional. Since then, this has made it possible to obtain a license from the health department for the legal consumption of a small amount of marijuana. In addition, this increased the pressure on Congress to finally pass a law that would create legal certainty, because currently consumers move in a gray area.
Newsletter
Subscribe to our newsletter and get the latest information and tips for your vacation on Holbox Island.