Travel Time and Climate
The best time to travel to Holbox
The Climate and Weather on Isla Holbox
This article contains affiliate links. What does that mean?
If you make a purchase via such a link on the site of the provider, we may earn a small commission, which supports us in this project. Of course, this doesn't cost you anything! Thank you very much!
On Holbox there is a tropical savannah climate. This means that with high humidity it has very warm temperatures between 81°F and 91°F all year round during the day and rarely cools down below 68 degrees at night. Fortunately, Holbox is a very flat island, so there is always a pleasant breeze near the coast for some refreshment.
Water temperatures remain between pleasant 75°F and 82°F throughout the year, making it ideal for swimming, bathing and water sports.
Climate table of Holbox
| | | | | | | | | | | | | |
| --- | --- | --- | --- | --- | --- | --- | --- | --- | --- | --- | --- | --- |
| | Jan | Feb | Mar | Apr | May | Jun | Jul | Aug | Sep | Oct | Nov | Dec |
| Average temperature in °F | 72 | 73 | 75 | 79 | 81 | 82 | 82 | 82 | 81 | 79 | 75 | 73 |
| Max. temperature in °F | 81 | 82 | 86 | 90 | 91 | 91 | 91 | 91 | 90 | 86 | 84 | 82 |
| Min. temperature in °F | 63 | 63 | 64 | 68 | 70 | 72 | 72 | 72 | 72 | 70 | 66 | 63 |
| Rainy days | 8 | 6 | 4 | 4 | 8 | 13 | 12 | 12 | 16 | 14 | 10 | 10 |
| Sunshine hours per day | 8 | 9 | 9 | 9 | 9 | 9 | 10 | 10 | 9 | 9 | 9 | 9 |
| Water temperature in °F | 77 | 75 | 77 | 77 | 79 | 81 | 82 | 82 | 82 | 82 | 81 | 77 |
Climate table Isla Holbox in Mexico
In general, the climate in this part of Mexico can be divided into two main seasons: The dry season and the rainy season with the hurricane season.
Dry Season from December to April
This is often cited as the ideal time to travel, and for good reason. During this time, the sky is mostly clear and it rains only a little now and then, on average about three to five days a month. Due to the low amount of precipitation, the humidity is lower, which makes the warm temperatures more pleasant.
The months of December and January are the "coolest of the year" after which it gets progressively warmer until summer. However, one should keep in mind that at Christmas and Easter many tourists from the U.S., Europe and of course from Mexico itself spend their vacations here. Then it becomes not only crowded and noisy, but also noticeably more expensive. The prices for accommodations are strongly dependent on the respective season, which can lead to the fact that an overnight stay at Easter is twice as expensive as for example in February.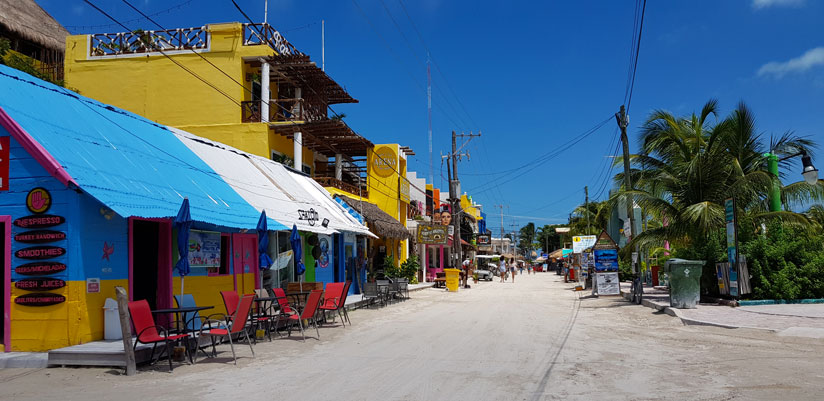 Rainy Season from June to October
Around June the rainy season begins, which results in hot temperatures and high humidity. It becomes increasingly humid and there are more and more short but heavy rain showers, sometimes thunderstorms. Usually these go away in the afternoon, towards the evening or during the night, and the rest of the day it is beautiful again. This can cause some surprise on Holbox, because after heavy rains the streets are often under water for days. There is no drainage or rainwater drainage here. The streets consist -like the whole island- only of sand, so you have to wait patiently until after a few days everything has seeped away again.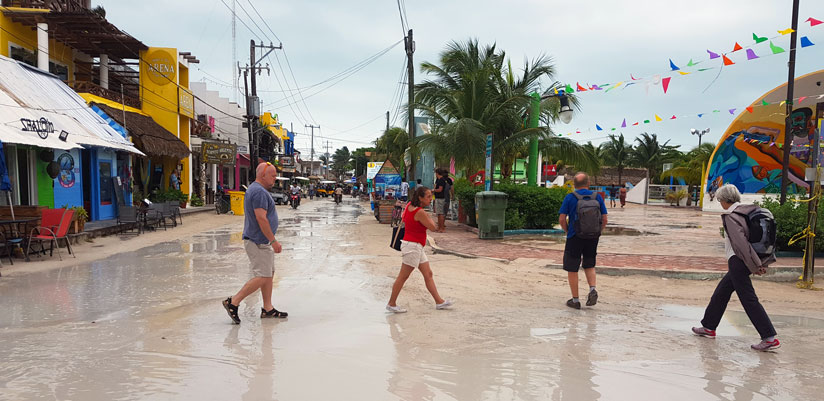 Hurricane Season
With the onset of the rainy season, hurricane season also begins and lasts until approximately November. These tropical cyclones originate in the Atlantic Ocean, then often move towards the coast of Central America and often turn north or northeast between the 20th and 25th degrees of latitude. However, such a hurricane sometimes moves differently, and this can be quite dangerous. If it hits land on its way, it weakens rapidly after some time because it gets its energy from the evaporation of warm ocean water. The likelihood of a hurricane passing over Holbox Island is relatively low, but still present.
Incidentally, the last hurricane warning was in October 2020 when Hurricane Delta passed over the Yucatán Peninsula. Fortunately, it weakened before reaching the Mexican coast, so not much happened except for a few fallen trees and power poles. The island was evacuated for one to two days as a precautionary measure. When everything was over, there were problems with the internet and water supply for a few days.
This may sound a bit dramatic, but the people in this region are used to such situations and the early warning systems work very well. Usually, forecasts of a hurricane's path and strength are accurate enough several days in advance to initiate safety measures in time, if necessary. If you want to get more detailed information about the current hurricane situation, you can do so at Tropical Storm Risk.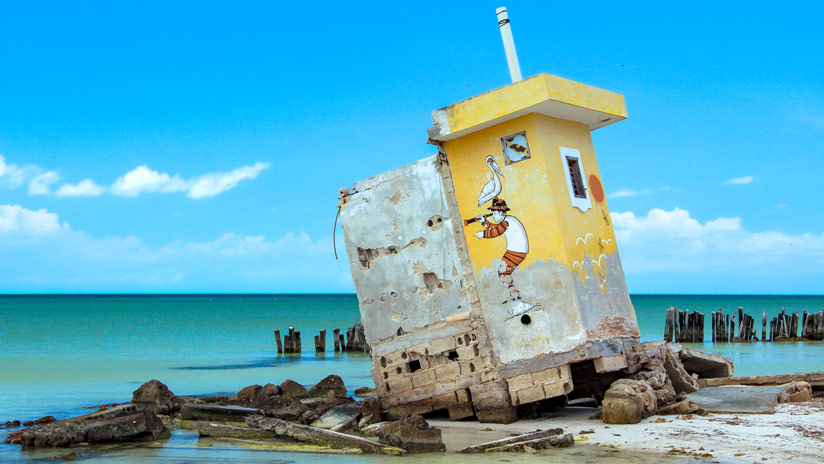 Our Tip for the Best Travel Time to Holbox
The best time to travel to Isla Holbox depends on your personal preferences and possibilities. Basically, it is possible to travel to the island all year round and each season has its own charms and special features.
If you are bound to the vacation season for work or family reasons, a vacation at Christmas, Easter or early summer is recommended. However, you have to expect that due to the higher rush of tourists, the prices for flights and accommodations are significantly higher. For Christmas, this is true for about three weeks from the week before Christmas Eve until after the Three Kings holiday. The same applies on Holbox for Easter, because here in March/April – depending on the location of the holidays – for two weeks with particularly much hype and higher prices are to be expected. The summer vacations from the beginning of July to the end of August also fall into this price category.
If you can choose your travel time individually, then the months of March and April before or after Easter offer the best climatic conditions to enjoy a quiet and relaxing vacation.
If you would like to swim with whale sharks, you should come at the end of May or better at the beginning of June until middle of September. Then the harmless sea giants are around to feed on the plankton. You can find out more about whale shark tours on the Holbox activities page.
If you like it a bit cooler and quieter, apart from the Christmas season, December, January and February are good months to visit.
Time Difference and Daylight Saving Time
In Mexico, due to the size of the country, there are 4 time zones between the east and the west. The twice-yearly time change from summer to winter time and back also exists in Mexico, but not in all states and not on the same day. While the clocks in the most US states and territories are set forward by 1 hour on the second Sunday in March, in most of Mexico it takes place on the first Sunday in April. In autumn, the clocks are set back by 1 hour on the last Sunday in October, different from the U.S., where it happens on the first Sunday in November.
Note: In the state of Quintana Roo, which includes Isla Holbox, daylight saving time was abolished in 2015, so time changes no longer occur there. This can cause some confusion, especially when booking flights, if the flight dates fall exactly in the time when the changeover takes place in the U.S.: Mid-March and early November. If in doubt, you can check the current time at timeanddate.