Transfer to Chiquilá
From Cancún by cab, shuttle, bus or organized transfer
From the Airport in Cancún to the Port of Chiquilá
This article contains affiliate links. What does that mean?
If you make a purchase via such a link on the site of the provider, we may earn a small commission, which supports us in this project. Of course, this doesn't cost you anything! Thank you very much!
After landing in Cancún, it is recommended to stock up on some Mexican Pesos (MXN) right at the airport. Cash is scarce on Isla Holbox, because there are only two working ATMs for the whole island and they can be empty for some time. You won't have this problem at Cancún airport. Here you can withdraw money from the ATMs in the exit area under normal conditions with a credit or debit card.
Tip: There are also ATMs in the departures building of Cancún Airport, which are usually less frequented.
Once you have escaped the air-conditioned and lively Cancun International Airport building, the warm, humid Caribbean air will immediately tell you that you have changed the climate zone. Take a deep breath, please! Depending on which variant you have chosen for your onward journey, you now have the following options:
Transfer by Taxi or Minibus Organized by the Hotel
This is usually the most comfortable way to travel. After the exit door of the airport, countless Mexicans with big signs are waiting to pick up passengers who have arrived. Don't get confused by the loudly shouting crowds. If your hotel has booked a transfer for you, there will be someone there with a sign with your name written on it -although maybe not quite right ;-).
Often, several people are transported in a cab or minibus, so you may have to wait a while until departure. But after that, this option is certainly the fastest. The trip to Chiquilá takes about 2 hours and costs about 60-120 USD (50-100 GBP) per person, depending on whether it is a shared or private ride. If your hotel does not offer a transfer to Chiquilá, you can also book one online here.
By Shuttle (Shared Minivan)
A little cheaper, but not quite as comfortable is the transfer to Chiquilá by shuttle bus, which can be booked directly at the airport exit. These are minibuses for 8-10 people from different providers.
Busy salesmen approach the arrivals at the exit until enough people have gathered for a full shuttle. This can sometimes take a while, for which some patience is required. The trip also takes about 2-2.5 hours and should not cost more than 900 MXN, or 50 USD (40 GBP). There are also online booking options for the shuttle transfer.
By Bus
The cheapest way to get to Chiquilá is by bus. The bus station at Cancún Airport (ADO Terminal) is located after the exit on the right side of the large parking lot. First, the way leads to the center of Cancún, which takes about 1 hour. You can buy the ticket for 110 MXN (about 6 USD or 5 GBP) directly at the bus stop at the airport. From the bus station in Cancún, several bus lines depart multiple times a day to Chiquilá, most frequently the highly recommended first class line ADO.
Departure times and prices vary depending on the season, which is why you should check the ADO site (Spanish only) or Bookaway before you leave. Luggage is stored in the stowage area of the bus, for which you sometimes even get a luggage tag. On the bus itself, you should always keep an eye on your carry-on luggage and stow it near you, preferably between your legs or under the front seat. The cost is 300-360 MXN (about 18-21 USD or 14-17 GBP) for the ADO bus and the pure travel time is about 2.5 hours. (Status July 2023)
For experienced Mexico travelers there is also the possibility of taking a so-called "Colectivo". These are minibuses that are often used by locals to travel to nearby towns or neighborhoods. These rides are somewhat cheaper (e.g., 250 MXN, or about 15 USD / 11 GBP for a ride from downtown Cancún to Chiquilá), but quite uncomfortable, as they are usually packed with people and luggage. In addition, you have to expect unplanned stops or minor detours. In the end, it is not worth it for a few dollars or pounds less.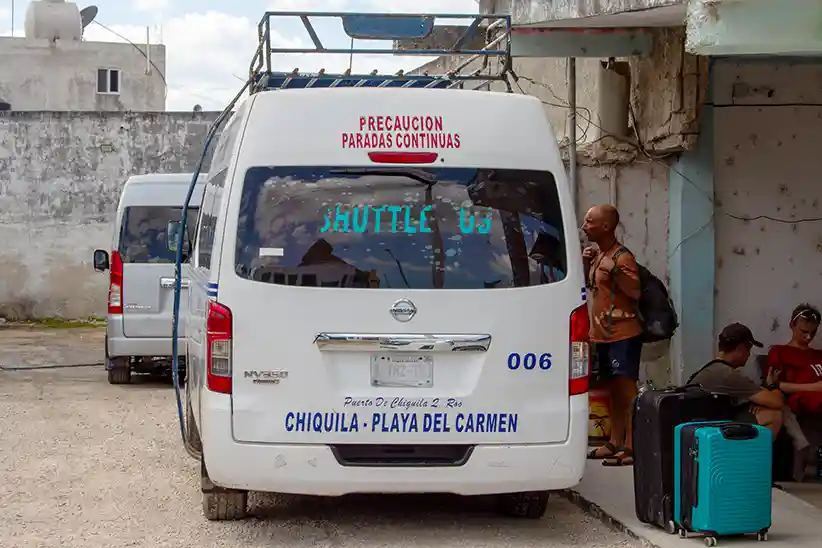 On the Way with a Rental Car
If you are traveling with a rental car, for example because you are on a Yucatán tour and only want to spend a few days on the island of Holbox, then it is recommended to park the car in Chiquilá. Holbox is practically car-free and you can't drive around there anyway due to the lack of decent roads. Fortunately, Chiquilá has many affordable long-term guarded parking lots. The cost is the same everywhere and is 100 MXN (about 5 USD or 6 GBP) per day.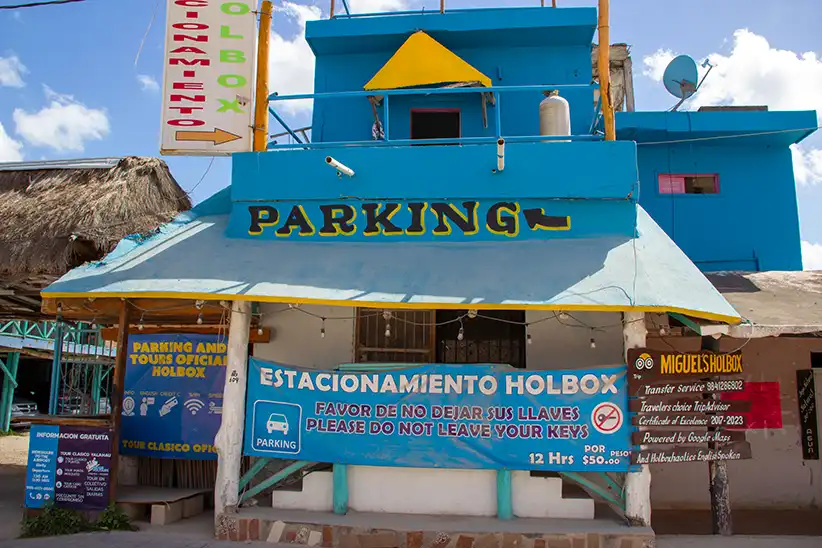 There are no car rental agencies in Chiquilá, nor is it possible to pick up or return a rented car. The closest car rentals are in Cancún or Playa del Carmen.
The Rest of the Trip
Once you arrive at the port of Chiquilá, the only thing left to do is to cross over to the island of Holbox. Which ferries you can use is described here:
FAQ
Here we have compiled the answers to the most frequently asked questions on the transfer to Chiquilá: