Current COVID-19 Situation on Holbox
The Most Important Info about COVID-19 in Mexico
Update 1/12/2023
Even in times of the Corona pandemic it is possible to travel to Mexico, regarding entry requirements even quite easy. If you plan to do so, you should definitely read this article beforehand.
The Current COVID-19 Status
Mexico is one of the most pandemic-affected countries in the world. Currently, the country counts:
There are approximately 130 million people living in Mexico, which when converted to the number of inhabitants results in currently low figures. In reality, the numbers are probably higher, as the reliability of data collection is not comparable with the United States.
In the state of Quintana Roo, with a population of approximately 1.9 million, which includes Isla Holbox, the Mexican authorities report the following current figures:
As in many other countries, there is a 4-level traffic light system in Mexico that classifies each state and region as green (low), yellow (medium), orange (high), and red (very high) depending on the risk of infection.
Currently, the traffic light for Holbox shows "green", so there is a low risk of Covid-19, which means that all businesses, hotels, restaurants, and stores are allowed to be fully open, as well as bars, nightclubs, and discos. There are no restrictions on public transportation, and the general mask requirement was also abolished in mid-October 2022. Nevertheless, certain safety precautions still apply, such as the mandatory wearing of face masks in hospitals or health centers, maintaining distance and certain hygiene measures.
Due to recent low case numbers, ongoing Corona Traffic Light coverage for Mexico was discontinued as of the end of April 2022. The last status of the traffic light showed green for all states.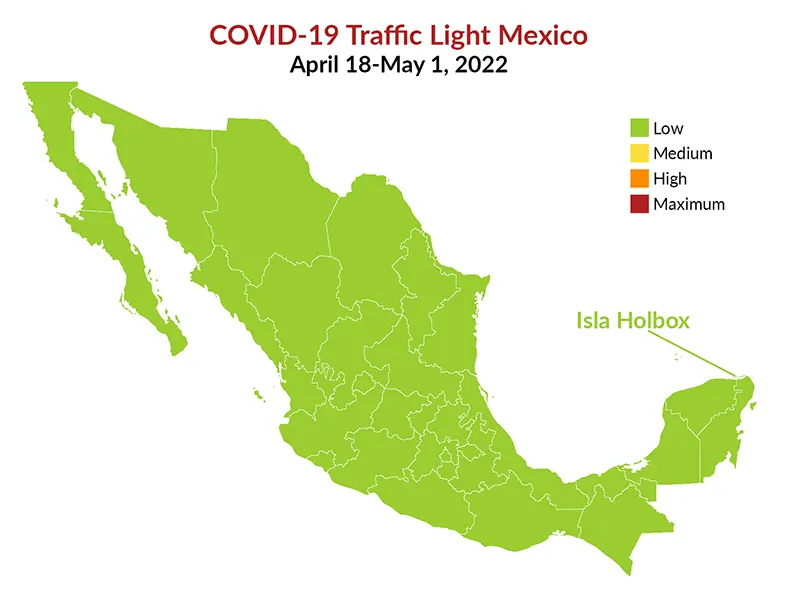 Vaccination Status in Mexico
According to current statistics, the vaccination rate in Mexico is 77.7% for first vaccination and 64.8% for fully vaccinated. In the meantime, this is comparable to the average vaccination rates in other countries, even if it took a little longer here. The slow progress of Mexico's vaccination campaign is not only due to the initial lack of availability of vaccine, but also to organizational problems and errors. To make matters worse, the indigenous population is generally very skeptical about vaccinations and prefers to rely on alternative healing methods from centuries of tradition.
Probably more for prestige than cost, Mexico is developing its own corona vaccine called "Patria". Translated from Spanish, Patria means "fatherland" and is intended to commemorate the Mexican poet Ramón López Velarde, whose 100th death anniversary was commemorated last year. The Covid 19 vaccine is in advanced testing and is expected to be licensed in the first half of 2023. Little is known about its efficacy, but if successful, it would be the second vaccine developed and produced in Latin America after the Cuban vaccine "Abdala".
Tourism in Corona Times in Mexico
When the Corona crisis hit Mexico in March 2020, emergency measures were initially imposed and all stores and businesses were closed. But the income from tourism is enormously important for Mexico. So it happened that already after the situation in the health sector stabilized in June 2020, the first opening steps were implemented and the economy was gradually ramped up again.
Since then, appropriate security measures have been imposed based on the traffic light system, depending on the current situation of Covid-19 infections and the capacity utilization of hospitals in the states, so tourism has remained largely open to date. Despite certain losses, the flow of tourists has not stopped, especially since international air connections have also remained upright in the absence of entry restrictions.
Entry into Mexico
As far as Corona is concerned, there are currently no travel restrictions imposed by the Mexican government on foreigners arriving by air, regardless of their country of origin. There is no quarantine requirement and no Corona test or vaccination is necessary. The health questionnaire, which was required until recently, has not been requested since March 2022, and the tourist card (FMM), which was common until October 2022, has also been abolished. One no longer has to fill out entry forms, but instead receives a simple stamp in the passport.
Attention: Currently, the purpose of travel is checked more closely by the Mexican authorities than was the case a few months ago. Therefore, when entering the country, you should have a copy of your return ticket, proof of booked accommodation and sufficient funds for your stay. In addition, you should check at the immigration counter whether the date and the number of authorized days of stay listed in the stamp of your passport correspond to your travel plans.
Return Journey to the United States
The requirements for the return journey are somewhat different. The actual information refers to CDC Center for Disease Control and Prevention. It is recommended to check this site, if you are planning to travel back to the U.S., because there can always be changes at short notice.
Current Requirements for the Return Journey
As of June 12, 2022 for U.S. Citizens, U.S. Nationals, U.S. Lawful Permanent Residents, and Immigrants, CDC will no longer require air passengers traveling from Mexico to the United States to show a negative COVID-19 viral test or documentation of recovery from COVID-19 before they board their flight.
But all air passengers to the United States will be required to provide contact information to airlines before boarding flights to the United States. Airlines and operators are requested to collect the information from passengers within 72 hours of their flight's departure.
All non-U.S. citizen, non-U.S. immigrants traveling to the United States by air are required to show proof of being fully vaccinated against COVID-19 before boarding a flight. It is also required to provide contact information to airlines before boarding flights to the United States and a valid, approved Electronic System for Travel Authorization (ESTA) for travel to the United States.
COVID-19 Tests on Isla Holbox and in Cancún
With the emergence of the need for a Covid-19 test for the return trip, a possibility was created on Isla Holbox in cooperation with the hotels directly to be able to make such tests in time before departure. On Holbox the longer valid PCR test costs from 150 USD + 200 MXN (approx. 11 USD) and the faster antigen test from 50 USD + 200 MXN (approx. 11 USD).
Tip: Recently there is another and even cheaper alternative for testing on Holbox. Near the port there is a mobile test van from Mavelsa Health & Care Holbox, where PCR tests can be done within 12-16 hours for 100 USD and antigen tests in 30 minutes for 35 USD.
A corona test can also be done directly before departure at the airport in Cancún, where antigen tests are offered at 290 MXN (approx. 15 USD) within 30 minutes in mobile stations in front of the departure terminals. Although PCR tests are also offered at the airport, it takes 24 hours until a result is available and the test costs 2,000 MX (approx. 106 USD).
Useful Links About the Corona Situation, Entry and Return
If you have had any experiences yourself in traveling to and from the island, please let us know. Since the situation can change at short notice and the entry conditions change in ever shorter intervals, especially due to the increasing use of the Omicron variant, we are grateful for every personal tip in order to be able to offer our readers the most up-to-date information. Click here to go directly to the contact form.